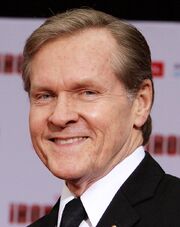 William Sadler
is an American actor who has been in such films as
Die Hard 2: Die Harder
and
Bill and Ted's Bogus Journey
, where he played the grim reaper.
Stephen King films
A good friend of Frank Darabont, Sadler is one of the few (if not the only) actors who have been in more than two Stephen King films. He has played the father of two dead girls in The Green Mile, a lifelong prison inmate in The Shawshank Redemption, and a crazed shopper in The Mist.
Portrayals
Heywood (The Shawshank Redemption)
Klaus Detterick (The Green Mile)
Jim Grondin (The Mist)
Ad blocker interference detected!
Wikia is a free-to-use site that makes money from advertising. We have a modified experience for viewers using ad blockers

Wikia is not accessible if you've made further modifications. Remove the custom ad blocker rule(s) and the page will load as expected.