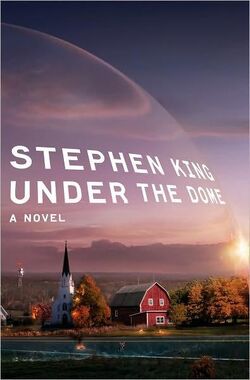 Exciting news, Stephen King fans! The novel Under the Dome has definitely been picked up by CBS! There were rumors before, but it has finally been confirmed that CBS has ordered a 13-episode series based on the novel!!
The series will be broadcasted in the summer of 2013, and the plot is as follows: Under the Dome is the story of a small New England town that is suddenly and inexplicably sealed off from the rest of the world by an enormous transparent dome. The town's inhabitants must deal with surviving the post-apocalyptic conditions while searching for answers to what this barrier is, where it came from and if and when it will go away.
Before the show airs, CBS and Simon & Schuster will cross-promote the television series AND the book with the April 2013 re-release of trade paperback and electronic editions. Even better is that, in addition to the featured broadcast on CBS, Under the Dome will have a unique programming model tailored for a summer launch with a multi-platform window available for each episode shortly after the network airing!
In other news, CBS Television Studios will produce the series in association Amblin Television. Neal Baer, Stephen King, Justin Falvey, Darryl Frank, Stacey Snider and Brian K. Vaughan, who wrote the television adaptation, will serve as executive producers, and acclaimed director Niels Arden Oplev will direct the first episode.
Source:
CBS Press Release
Are you excited to see "Under the Dome" on TV?
---
---