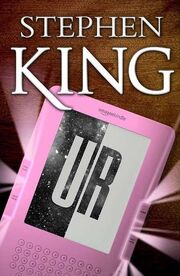 "
Ur
" is a novella released originally for the
Amazon Kindle
, and made available for download on 12 February 2009.
The story concerns English instructor Wesley Smith, who is haunted after a nasty break-up by his ex-girlfriend's parting shot: "Why can't you just read off the computer like the rest of us?" Prompted by her question and piqued by a student's suggestion, Wesley places an order for Amazon's Kindle eReader. The – pink? – device that arrives in a box stamped with the smile logo – via one-day delivery that he hadn't requested – unlocks a literary world that even the most avid of book lovers could never imagine. But once the door is open, there are those things that one hopes we'll never read or live through.
Publication
Of Ur, King said: "The delivery mechanism to my mind is secondary for me as a writer. [...] But I did this once before with a story called Riding the Bullet and I never had so many guys in suits come up to me and ask me questions. But they didn't want to know about the story, they didn't want to know about the process, they wanted to know about the delivery system, but to me that's secondary. [...] I think people will be more interested in the business aspect of [Ur] than they will in the story. I would never have agreed to it if I didn't think it was a pretty good story." King's agent, Ralph Vicinanza, stated that downloads of the novella at Amazon.com have reached "five figures" in about three weeks, while also denying that the novella is an infomercial for the Kindle. King's publisher, Scribner, will physically publish the novella at a later time.
Plot
Wesley Smith, an English teacher at a college in Kentucky, wants to go "New School" and buys a Kindle. Due to a minor mistake in his credit card number, he is sent a pink Kindle (even though at the time, Kindles were always white). Slowly he realizes that this edition was meant for another Wesley Smith in a parallel universe.
Smith's Kindle has a peculiar function called UR that can search multiple universes for data. Smith finds four "new" books by Ernest Hemingway, books he wrote in an alternate dimension where he lived for three more years. Wesley also discovers yet another function concerning newspapers that were published in an alternate universe.
Smith tells a friend and a student about the Kindle. The three try to connect to a newspaper from an alternate reality but find to their horror that no papers are published that day. They learn that in this alternative reality, the world ended when the Cuban Missile Crisis escalated into a nuclear war.
Using the UR feature on his Kindle, Smith also discovers that a busload of students will be killed by a drunk driver in less than three days. He seeks out help to track down the drunk driver and keep her from killing the students. He is successful, although he realizes no one other than his two friends will know.
However, he is wrong. When he gets back from his success, he finds that low men in yellow coats are waiting for him, ready to punish him for using the forbidden function of the Kindle. He argues that perhaps this change was meant to happen – how else could he have gotten the Kindle otherwise? His argument does not fully sway the low men, but they feel it best to simply keep it from happening again by confiscating the Kindle, leaving Wesley alone to ponder the enormity of a world he thought he understood.
Audiobook
An audiobook version of the story was released on compact disc, narrated by Holter Graham, on 16 February 2010.
Title
Ur was also the name of an ancient Mesopotamian city.
References