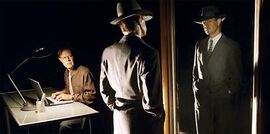 "Umney's Last Case" is a short story written by Stephen King that was first published in his 1993 collection Nightmares and Dreamscapes.
The title may be in reference to E. C. Bentley's 1913 detective novel Trent's Last Case.
Summary
Private investigator Clyde Umney goes about what he thinks is just another morning in 1930s Los Angeles. He soon discovers that his life as he knows it is falling apart, and is brooding alone in his office when he receives his final client: the crime-fiction author who created him. Through some unknown means, Umney is forced to trade places with the writer and finds himself in the year 1994, where he assumes his new identity but has the goal of returning to his own universe and taking revenge on his creator.
Adaptation
The story was adapted into the third episode of the TNT miniseries Nightmares & Dreamscapes. The episode aired on 19 July 2006, and starred William H. Macy as Umney.
Audiobook
The audiobook version of this story, in the Nightmares and Dreamscapes collection, is read by American crime writer Robert B. Parker.
Ad blocker interference detected!
Wikia is a free-to-use site that makes money from advertising. We have a modified experience for viewers using ad blockers

Wikia is not accessible if you've made further modifications. Remove the custom ad blocker rule(s) and the page will load as expected.