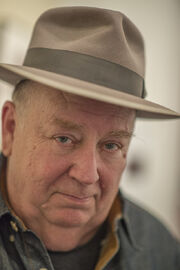 Troy Evans (born February 16, 1948) is an American actor who is perhaps best known for his role as Desk Clerk Francis "Frank" Martin in the television drama series ER. He has also appeared in the movies Ace Ventura: Pet Detective, Under Siege, Teen Wolf, Kuffs, Fear and Loathing in Las Vegas, The Lawnmower Man, Black Dahlia, Twin Peaks, Demolition Man, The Frighteners, and View From the Top among others. He portrayed Sheriff John Baker in The Stand.
Troy served with the 25th Infantry Division in Vietnam from 1968-1969, and was later cast as Sergeant First Class Bob Pepper in the TV series China Beach which was set during the Vietnam War.
Ad blocker interference detected!
Wikia is a free-to-use site that makes money from advertising. We have a modified experience for viewers using ad blockers

Wikia is not accessible if you've made further modifications. Remove the custom ad blocker rule(s) and the page will load as expected.