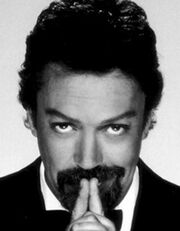 Timothy James 'Tim' Curry (born 19 April 1946) is an English actor, singer, composer, and voice actor, known for his work in a diverse range of theater, film and television productions, often portraying villainous roles or character parts.
Curry portrayed Pennywise in the 1990 television adaptation of It.
Ad blocker interference detected!
Wikia is a free-to-use site that makes money from advertising. We have a modified experience for viewers using ad blockers

Wikia is not accessible if you've made further modifications. Remove the custom ad blocker rule(s) and the page will load as expected.