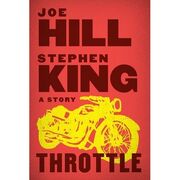 "
Throttle
" is a novella co-written by King and his son
Joe Hill
, originally published in the 2009 anthology
He is Legend
. Inspired by
Richard Matheson'sclassic
"Duel," "Throttle," is a duel of a different kind, pitting a faceless trucker against a tribe of motorcycle outlaws in the Nevada desert. A comic book adaptation by IDW Publishing was published in the spring of 2012.
Film adaptation
On March 30, 2017, producer Emile Gladstone announced he will produce a movie based on the story.
Ad blocker interference detected!
Wikia is a free-to-use site that makes money from advertising. We have a modified experience for viewers using ad blockers

Wikia is not accessible if you've made further modifications. Remove the custom ad blocker rule(s) and the page will load as expected.