The gladiators are paid assassins, who kill for money in The Running Man show, the most popular game show in The Running Man world. They have the job to kill the runners. They are also called in the show stalkers and are seen as stars by the public.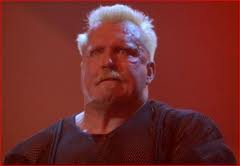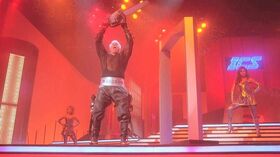 Buzzsaw
He is a gladiator. He was played by Gus Rethwitsch.
He kills the runners with his chainsaw, who even cuts hard metal. He rides in a motorbike for that purpose. He kills William Laughlin, when he saves Ben Richards, but is then killed by Ben.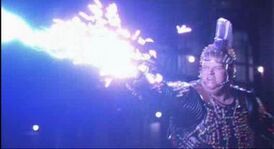 Dynamo
He is a gladiator. He was played by Erland van Lidth.
He kills by sending electricity against the runners. He rides a car to get  the runners. He kills Harold Weiss and tries to kill Amber, but is knocked out by Ben Richards. He is later killed by Amber, when he tried to rape her.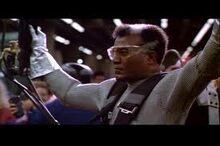 Fireball
He is a gladiator, who kills the runners with a flamethrower. He was played by Jim Brown.

He flies to the runners with the help of rocket suit and is protected by a flame proof vest. He also has the task to kill unofficially all those, who manage to survive the game under orders of Killian and the government. He is killed by Ben Richards while he focused on Amber.
===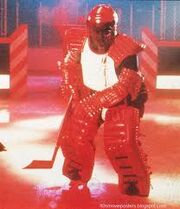 Subzero
He is a gladiator, who acts like an ice hockey player and kills with the corresponding sharpened stick. He also uses a hockey puck tat contains a small explosive to knock out runners. He is killed by Ben RIchards and William Laughlin.
Captain Freedom
He is a pensioned gladiator, the best one the show ever had. He is a legend with a reputation of killing the runners with his bare hands. He intervenes against his will again in the show, when Ben Richards begins to become too popular in an attempt to fake his death and destroy his popularity as a killer of gladiators.
Ad blocker interference detected!
Wikia is a free-to-use site that makes money from advertising. We have a modified experience for viewers using ad blockers

Wikia is not accessible if you've made further modifications. Remove the custom ad blocker rule(s) and the page will load as expected.