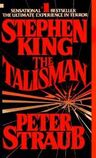 The Talisman is a series of fantasy books written by Stephen King and Peter Straub. The series talks the adventure about Jack Sawyer, a twelve-year-old boy who uses a magical crystal to save his mother, who is dying from cancer. By using the crystal, Jack enters a parallel universe called "The Territories". 
In the latter, Jack is a retired police detective living in French Landing, Wisconsin, on the trail of a killer called "The Fisherman".
Books
Comics
Ad blocker interference detected!
Wikia is a free-to-use site that makes money from advertising. We have a modified experience for viewers using ad blockers

Wikia is not accessible if you've made further modifications. Remove the custom ad blocker rule(s) and the page will load as expected.