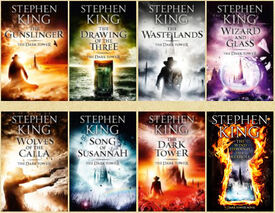 Also see: The Dark Tower Wiki

The Dark Tower is a series of eight novels, as well as numerous ancillary short stories and graphic novels. The series, which King considers his magnum opus, ties together many of his other novels as well, and chronicles the adventures of the gunslinger Roland Deschain on his quest to reach a mysterious place known as The Dark Tower:
"The Little Sisters of Eluria," also written by King and involving Roland, is set before Gunslinger; it was first published in the 1998 anthology Legends: Short Novels by the Masters of Modern Fantasy, and later reprinted in King's own 2002 collection Everything's Eventual.
Related Material
Novels
· Black House (2001):
· Desperation (1996): Cynthia Smith is picked up by Steve Ames while hitchhiking crosscountry, and Ellen Carver reads the Misery novels by Sheldon.
· The Regulators (1996): The same cast of characters play out a different story, indicating that the two stories occur in closely-related alternate universes.
Stories
Comics
Beginning in February of 2007, Marvel Comics began running a prequel series written by Robin Furth and Peter David and illustrated by Jae Lee and Richard Isanove:
Supplemental Works
Ad blocker interference detected!
Wikia is a free-to-use site that makes money from advertising. We have a modified experience for viewers using ad blockers

Wikia is not accessible if you've made further modifications. Remove the custom ad blocker rule(s) and the page will load as expected.