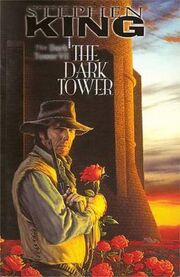 The Dark Tower
is the 50th book published by
Stephen King
; it was his 42nd novel, and the 36th under his own name. The book was released by
Grant
on its author's 57th birthday – 21 September
2004
– and is the seventh and concluding volume of the
Dark Tower series
. The book was illustrated by
Michael Whelan
.
Summary
Following Roland Deschain's journey through Maine, he and Eddie return to Fedic, where they reunite with Susannah and Jake, who escaped from New York City. Walter schemes to use the birthmark of Mordred Deschain to enter the Dark Tower himself and climb to its uppermost room. Roland's ka-tet continues on to Thunderclap and the Devar-Toi, where they ally with Ted Brautigan and Dinky Earnshaw in order to free the Breakers imprisoned there, after which Jake, Roland and Oy travel to Maine of 1999 in order to save the life of Stephen King. Returning to Fedic once more, Roland, Oy and Susannah cross The White Lands of Empathica before encountering Dandelo and rescuing Patrick Danville. Roland, Patrick and Oy continue on toward the Tower, until Mordred finally catches up to them for a final confrontation. Roland and Patrick journey further to Le Casse Roi Russe before reaching Can'-Ka No Rey and the Dark Tower itself where Roland must face the Crimson King in a battle for all reality.
Ad blocker interference detected!
Wikia is a free-to-use site that makes money from advertising. We have a modified experience for viewers using ad blockers

Wikia is not accessible if you've made further modifications. Remove the custom ad blocker rule(s) and the page will load as expected.