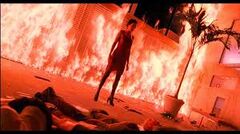 The Black Party
happened in the year 1999 in the house of Mark Bing in
Chamberlain, Maine
.
The party had the purpose to celebrate the success of the football team of the High School with all the corresponding implications.
It is here, where the football team of the Bates High School and the cheerleaders under the leadership of Mark Bing set Rachel Lang up to humiliate her to the core in their vengeance for having acted against them because of their sex game and because she was dating Jesse. They didn´t know, she had telekinesis and therefore their plan had terrible consequences, because then, in her vengeance and insanity for the horrible humiliation and the evil behaviour of everyone involved, she kills almost everyone of them and burns the house to the ground.
She also dies there after saving Jesse.
Known Casualties
Ad blocker interference detected!
Wikia is a free-to-use site that makes money from advertising. We have a modified experience for viewers using ad blockers

Wikia is not accessible if you've made further modifications. Remove the custom ad blocker rule(s) and the page will load as expected.