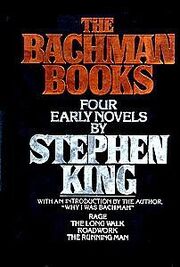 The Bachman Books
is a collection of the first four novels written by
Stephen King
under the pseudonym of
Richard Bachman
.
The book was relased by NAL on 4 October 1985.
Contents
1996 edition
A new edition of The Bachman Books, including a new introduction titled "The Importance of Being Bachman," was released 24 September 1996 in conjuction with the publication of the Bachman "trunk-novel" The Regulators.
Editions
The US editions of this collection and the novel Rage were allowed to go out of print by the author and publisher because of the Heath High School shooting—a school shooting incident involving Michael Carneal. The remaining three novels are still in print and are published as separate books.
The Bachman Books is still in print in the United Kingdom although it no longer contains Rage. In a footnote to the preface of the more recent Bachman book Blaze (dated 30 January 2007) King wrote of Rage: "Now out of print, and a good thing."
Ad blocker interference detected!
Wikia is a free-to-use site that makes money from advertising. We have a modified experience for viewers using ad blockers

Wikia is not accessible if you've made further modifications. Remove the custom ad blocker rule(s) and the page will load as expected.