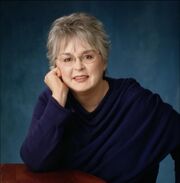 Tabitha Spruce King
(
b. 24 March 1949
) is an American novelist and activist.
She is the wife of Stephen King, and the mother of Joseph Hillstrom King, Owen King, and Naomi King.
She co-wrote the tenth episode of Kingdom Hospital – "The Passion of Reverend Jimmy" – with Stephen. As of 2006, King has published eight novels and two works of non-fiction. She published her first novel, Small World, through Signet Books in 1981 and her most recent book, Candles Burning through Berkley Books in 2006.
King has served on several boards and committees in the state of Maine, such as the Bangor Public Library board. She also served on the board of the Maine Public Broadcasting System  until 1994, and has received a Constance Carlson award for her work with literacy for the state of Maine.
Awards and Recognition
Honorary Doctorates of Humane Letters, University of Maine in Orono (May 1987)
Dowd Achievement Award (1992)
Constance H. Carlson Public Humanities Prize (1998)
Bibliography
Ad blocker interference detected!
Wikia is a free-to-use site that makes money from advertising. We have a modified experience for viewers using ad blockers

Wikia is not accessible if you've made further modifications. Remove the custom ad blocker rule(s) and the page will load as expected.