Survivor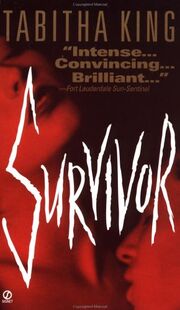 is the eighth book and seventh novel published by
Tabitha King
.
The book was released in 1997.
Synopsis
A beautiful photographer is driving home one night when a car swerves past her and kills two pedestrians. Although she escapes the accident without harm, she has trouble shaking off the after effects...and comes to unsettling crossroads in her life. Soon she marries a local hockey star whose raucous lifestyle leads to a divorce. Then a scheming local cop, who has pursued her since the accident, takes advantage of her, and she marries again...and fails into a near-fatal mistake!
Ad blocker interference detected!
Wikia is a free-to-use site that makes money from advertising. We have a modified experience for viewers using ad blockers

Wikia is not accessible if you've made further modifications. Remove the custom ad blocker rule(s) and the page will load as expected.