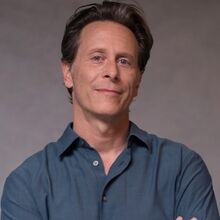 Steven Robert Weber (born March 4, 1961) is an American actor. He is best known for his role as Brian Hackett on the television show Wings which aired from April 1990 to May 1997 on NBC and as Sam Blue in Once and Again. He played Jack Torrance in the 1997 television adaptation of The Shining. He played Steve Ames in the 2006 television adaptation of Desperation and Clark Rivingham in Nightmares & Dreamscapes; Episode: You Know They Got a Hell of a Band. In addition to the before mentioned roles he also narrated the audiobook of IT.
Ad blocker interference detected!
Wikia is a free-to-use site that makes money from advertising. We have a modified experience for viewers using ad blockers

Wikia is not accessible if you've made further modifications. Remove the custom ad blocker rule(s) and the page will load as expected.