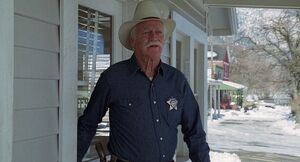 Sheriff Buster is the Sheriff of Silver County in the Stephen King novel Misery. After Paul Sheldon disappears he is contacted by Paul's agent, Marcia Sindell, and begins an investigation. A series of clues, reading Paul's "Misery" novels and looking into Annie Wilkes background eventually leads him to Annie's place and Paul. Unfortunately he is shot in the back by Annie with a Double-barreled shotgun.
The late Richard Farnsworth (1920-2000) portrayed Sheriff Buster in the 1990 movie adaptation.
Ad blocker interference detected!
Wikia is a free-to-use site that makes money from advertising. We have a modified experience for viewers using ad blockers

Wikia is not accessible if you've made further modifications. Remove the custom ad blocker rule(s) and the page will load as expected.