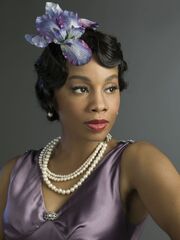 Sara Tidwell was a singer who performed on the carnival-roadhouse circuit at the turn of the last century. She was also known as 'Sara Laughs'. She was raped, murdered, and buried on the shore of Dark Score Lake in 1901 by Jared Devore and his gang of young followers. She is portrayed by Anika Noni Rose in the 2011 miniseries.
History
Not much is known about Sara Tidwell. She was a popular Negro Blues singer around the turn of the century. In the book Bag of Bones, her son is named Kito; in the miniseries her child is a daughter named Kisha. After performing at a fair, she was beaten and raped by Jared Devore. After Kisha witnessed her mother being raped, Sara shouted at her to run, and Devore sent one of his men out to drown Kisha. Kisha was then drowned in Dark Score Lake. Hysterical and distraught at her daughter's death, Sara cursed Devore, telling him that him and his descendants would, "do to your daughters what you've done to mine!" To silence her, Devore bludgeons her to death with a rock. Sara and her child are buried together on the shore of the lake; a 'gray forehead of rock' jutting from the bank marks the place, and a birch tree resembling a woman grows there, with one branch pointing to their resting place.
Gallery
Ad blocker interference detected!
Wikia is a free-to-use site that makes money from advertising. We have a modified experience for viewers using ad blockers

Wikia is not accessible if you've made further modifications. Remove the custom ad blocker rule(s) and the page will load as expected.