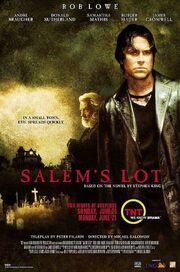 Salem's Lot is a 2004 American two-part television mini-series] which first aired on TNT on June 20 & 21, 2004. It is the second television adaptation of Stephen King's 1975 horror novel Salem's Lot (the first version was made in 1979).
Although the novel and original miniseries were both set in the 1970s, this version updates the story to take place in the 2000s. The story is still set in a small Maine town, but the mini-series was actually shot on location at Creswick, Victoria and Woodend, Victoria, in Central Australia in 2003. It was directed by Mikael Salomon.
Cast
Main
Supporting
Gallery
Ad blocker interference detected!
Wikia is a free-to-use site that makes money from advertising. We have a modified experience for viewers using ad blockers

Wikia is not accessible if you've made further modifications. Remove the custom ad blocker rule(s) and the page will load as expected.