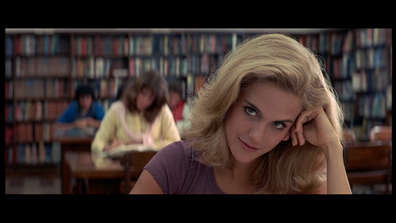 Roseanne was the girl Dennis Guilder briefly dated before he met Leigh Cabot and is a minor character in Stephen King's Christine. She portrayed by Kelly Preston.
Christine
Christine (Novel)
At the beginning of the novel, Dennis is still with her; but eventually the relationship falls apart and he falls in love with Leigh Cabot. Roseanne is very pretty and always attracts admiring glances. She named Dennis "Den-Den".
Christine (Film)
In the movie, Roseanne and Dennis went to the movies together to watch Grease. When at the library, she continues to show interest in Dennis by looking at him and smile flirtatiously. Unfortunately, she is left with no luck when Dennis moves past her to see Leigh the new beautiful girl who transferred to their school, much to her dismay.
Gallery
Ad blocker interference detected!
Wikia is a free-to-use site that makes money from advertising. We have a modified experience for viewers using ad blockers

Wikia is not accessible if you've made further modifications. Remove the custom ad blocker rule(s) and the page will load as expected.