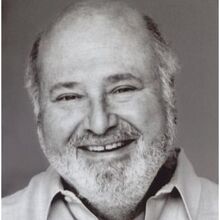 Robert "Rob" Reiner (DOB: 03/06/1947) is an American actor, writer, director, producer, and activist. As an actor, Reiner first came to national prominence with the role of Michael Stivic (Meathead) on All in the Family (1971-1979). That role earned him two Emmy Awards during the 1970s. He would move behind the camera as a director after leaving All in the Family though he still takes small roles on occasion. Some of his most well known movies (as director) are This Is Spinal Tap(1984), Stand By Me (1986), The Princess Bride (1987), When Harry Met Sally... (1989), Misery (1990) and A Few Good Men (1992).
Ad blocker interference detected!
Wikia is a free-to-use site that makes money from advertising. We have a modified experience for viewers using ad blockers

Wikia is not accessible if you've made further modifications. Remove the custom ad blocker rule(s) and the page will load as expected.