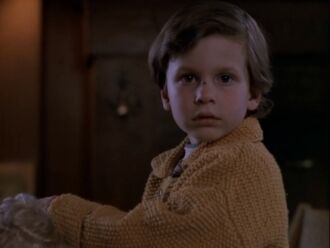 Ralph "Ralphie" Anderson is played by Dyllan Christopher in The Storm of the Century.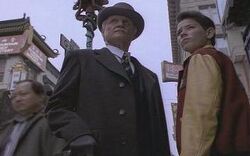 He is
Mike An
derson
's and
Molly Anderson
´s son and one of the 8 children enchanted and put into a coma by
Andre Linoge
, who plagued their hometown of Little Tall Island, Maine. He also becomes, like the other seven, one of the candidates to become an apprentice and adoptive son desired by Andre Linoge. When the town caves in to his demand, he becomes in the end the chosen one through a lottery organized by André Linoge with the approval of the townspeople and goes with André Linoge, while he is still asleep. He takes him away by air.
After eight years he has already become like André Linoge and his real father, Mike Anderson, has to witness it in San Francisco with his own eyes, when he sees him there and shows him his teeth, which have become like Linoge´s fangs to scare his father away from him. It strenghtens his will never to return to the island and to break contact with his wife forever.
Ad blocker interference detected!
Wikia is a free-to-use site that makes money from advertising. We have a modified experience for viewers using ad blockers

Wikia is not accessible if you've made further modifications. Remove the custom ad blocker rule(s) and the page will load as expected.