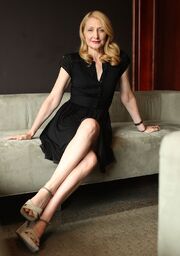 Patricia Davies Clarkson (born December 29, 1959) is an American actress. She has starred in many leading and supporting roles in films such as The Station Agent, The Pledge, The Green Mile, Far from Heaven, High Art, Dogville, Good Night, and Good Luck, Easy A, and Cairo Time. She was nominated for the Academy Award for Best Supporting Actress and the [Golden Globe Award for Best Supporting Actress for her performance in Pieces of April (2003). She twice won the Primetime Emmy Award for Outstanding Guest Actress in a Drama Series for her recurring role in Six Feet Under . In 2015, she was nominated for a Tony Award for Best Featured Actress in a Play for her performance in The Elephant Man. She played Margaret White in the 2002 adaptation of Carrie and Melinda Moores in The Green Mile.
Ad blocker interference detected!
Wikia is a free-to-use site that makes money from advertising. We have a modified experience for viewers using ad blockers

Wikia is not accessible if you've made further modifications. Remove the custom ad blocker rule(s) and the page will load as expected.