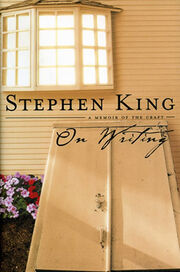 On Writing: A Memoir of the Craft is a memoir by American author Stephen King, that documents his experiences as a writer and relays his advice for aspiring writers. It is his 43rd book, and his 2nd non-fiction book, first published in 2000 by Charles Scribner's Sons, On Writing is King's first book after the car accident a year earlier. In 2010, Scribner republished the memoir as a 10th anniversary edition, which featured an updated reading list from King.
On Writing is organized into five sections: "C.V.", in which King highlights events in his life that influenced his writing career; "What Writing Is", in which King urges the reader to take writing seriously; "Toolbox", which discusses English mechanics; "On Writing", in which King details his advice to aspiring writers; and "On Living: A Postscript", in which King describes his van accident and how it affected his life.
Ad blocker interference detected!
Wikia is a free-to-use site that makes money from advertising. We have a modified experience for viewers using ad blockers

Wikia is not accessible if you've made further modifications. Remove the custom ad blocker rule(s) and the page will load as expected.