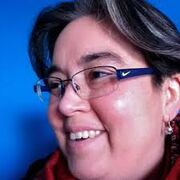 Reverend
Naomi Rachel King
(
b. June 1,1970
) is the daugther of
Tabitha
and
Stephen King
. She is a minister for the
Unitarian Universalist Church
of River of Grass, in
Plantation, Florida
. Prior to becoming involved in the ministry, she had been in the restaurant business and is also a gay activist.
Naomi pursued graduate religious studies at Meadville Lombard Theological School in Chicago, Illinois, graduating in 2005. Prior to the commencement of the graduate program, King met Rev. Dr. Thandeka, a professor at the school. They fell in love and their partnership was solemnized in a Unitarian Universalist ceremony.
Naomi won the 2005 Stewardship Sermon Award for her sermon "Stand By This Faith."
Naomi, was born with a chronic deficit of the hormone adrenaline. Naomi's ongoing health problems have made a full-time ministry impossible. She now works as a self-styled "Business Monkey" for Pietree Orchard, a shop and property near her parents in Sweden, Maine, that the Kings purchased in 2007 rather than see converted to condominiums.
Ad blocker interference detected!
Wikia is a free-to-use site that makes money from advertising. We have a modified experience for viewers using ad blockers

Wikia is not accessible if you've made further modifications. Remove the custom ad blocker rule(s) and the page will load as expected.