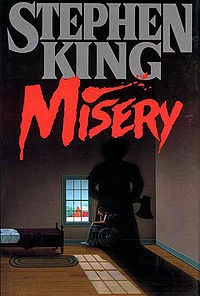 This article is about the novel. For the film see Misery (film).

Misery is the 25th book published by Stephen King; it was his 22nd novel, and the 17th written under his own name. The book was released by Viking on 8 June 1987.
Famed novelist Paul Sheldon (James Caan) is the author of a highly successful series of historical romance novels involving a character called Misery Chastain. But Paul wants to branch out to other genres, and has just finished the manuscript of a new unrelated drama novel called Fast Cars. His agent believes that it was a bad idea to kill off Misery, but Sheldon argues that it was an important career move, as he does not want to be typecast as a romance writer. He departs from Silver Creek, Colorado to head west but is caught in a blizzard and his car goes off the road. He is rescued by a former nurse, Annie Wilkes (Kathy Bates), and brought to her remote home. By the time Paul regains consiousness, he is already in Annie's farmhouse in the middle of nowhere, on Novril, an addictive drug that has kept Paul from realizing that both of Paul's legs are broken and he has a dislocated shoulder, so he is bedridden and incapacitated. Annie claims she is his 'number one fan' and talks a lot about him and his novels. She is happy when Paul lets her read his new novel, but later admits she disliked the excessive swearing. While feeding him, she is angered and spills soup on him but regains control and apologizes. She buys a copy of Paul's latest book, Misery's Child, but after learning that he has "murdered my" Misery, Annie flies into a rage, almost smashing a table on Paul's head. She reveals that nobody knows where he is (contradicting what she had earlier told him). Annie leaves and Paul tries to escape from his room, but she has locked the door. Sheldon realizes that she has destroyed the phones and continues to overdose him on painkillers and uses various methods to keep him locked up. With a hopeless addiction to the pills and a constant need for water, Annie is able to keep him squealing.
Annie forces Sheldon to burn the manuscript, and Sheldon does, only because he needed painkillers. Unfortionately, Sheldon had never made copies, so Fast Cars is lost forever. Annie forces him to write a sequel to the book, where Misery is brought back to life. Sheldon endures months of Wilkes, where he writes on her typewriter. He escapes from his room one day to arm himself with a kitchen knife and stumbles upon her "scrapbook", where he discovers that Wilkes was murdering infants and elderly patients, but was never convicted due to lack of evidence. Annie discovers he was out and cuts off one of his feet with an axe, and cauterizes the wound with a blowtorch. She steals the knife. A local police officer comes by, and Sheldon uses this opportunity to get his attention with an ashtray, but he is impaled on a piece of wood and killed with a riding lawnmower. He finishes the book and burns it in front of Wilkes, who was planning a murder-suicide. He beats her to death with her typewriter and escapes. Sheldon had actually only burned a bunch of spare paper and had hidden the actual book, which he takes with him. He is rescued by two cops, who take him to a hospital. Paul goes back to New York with a prosthetic foot. Sheldon has released Misery's Return, and it is a hit. His agent wants him to write a non-fiction book on his experiences, but Sheldon refuses, as he is obviously suffering some kind of psychological trauma from his experiences, and often suffers nightmares and hallucinations of Annie coming to get him for revenge. He endures an odd encounter with a child, a skunk, and a shopping cart, and begins to write about it, indicating that Sheldon is slowly making a recovery.
Adaptation
Edit
The story was adapted into a film in 1990...
Characters
Edit