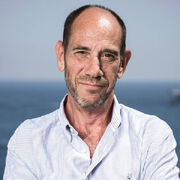 Miguel Ferrer (1955-2017) was an American actor who appeared in such films as RoboCop (1987), The Stand as Lloyd Henreid (1994), The Night Flier, as Richard Dees, Hot Shots! Part Deux, Revenge and Point of No Return in addition to his role as Owen Granger in the series NCIS: Los Angeles. He also was the voice of Jack Torrance's dead father in 1997 television adaptation of The Shining. He was also the son of actor José Ferrer and singer Rosemary Clooney as well as first cousin to actor George Clooney. He passed away on January 19, 2017 due to complications from throat cancer.
Ad blocker interference detected!
Wikia is a free-to-use site that makes money from advertising. We have a modified experience for viewers using ad blockers

Wikia is not accessible if you've made further modifications. Remove the custom ad blocker rule(s) and the page will load as expected.