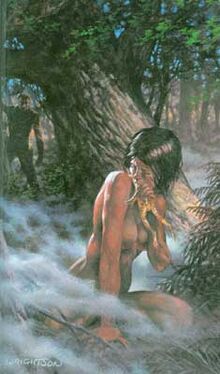 Mia was a succubus that facilitated the impregnation of Susannah Holmes with the seed of Roland Deschain.
As a succubus, Mia once saw and fell in love with a baby and longed to have one of her own. Long after a plague ravaged the town of Fedic and the child was taken away, Mia struck a bargain with Randall Flagg. If she would give up her formless immortality, Flagg would give her a baby. Mia's purpose in Flagg's and the Crimson King's plan was to bear Roland's child, as prophecy had foretold that the child would be Roland's undoing.
Mia first acquired Roland's seed when he approached her speaking ring while crossing the Mohaine Desert, and later delivered it into Susannah after taking a male form in another speaking ring some time later. Mia called the child her "chap," and it was carried by both Susannah and Mia, though Mia possessed Susannah in order to take over the birthing of her "chap". In the Summer of 1999, Mia delivered Susannah to Richard Sayre at the Dixie Pig in New York City; Susannah was then ferried through the underground tunnel back to Fedic to give birth.
Mia was killed and eaten by her child, Mordred Deschain, shortly after giving birth.
Appearances
Ad blocker interference detected!
Wikia is a free-to-use site that makes money from advertising. We have a modified experience for viewers using ad blockers

Wikia is not accessible if you've made further modifications. Remove the custom ad blocker rule(s) and the page will load as expected.