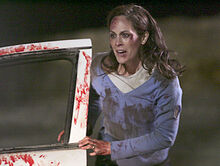 Desperation
Mary Jackson is a college professor and the wife of Peter Jackson in Desperation. She and her husband are stopped by Collie Entragian outside of Desperation, Nevada for not having a license plate. Collie finds a bag of marijuana in the trunk of the car and takes Mary and Peter prisoner. Peter is killed by Collie, but Mary is one of God's chosen to stop Tak. She survives the battle and leaves the cursed town with the other survivors.
The Regulators
In the Richard Bachman novel The Regulators Mary is killed by Tak's creatures.
Adaptation
In the 2006 television adaptation of the same name Mary is portrayed by Annabeth Gish.
Ad blocker interference detected!
Wikia is a free-to-use site that makes money from advertising. We have a modified experience for viewers using ad blockers

Wikia is not accessible if you've made further modifications. Remove the custom ad blocker rule(s) and the page will load as expected.