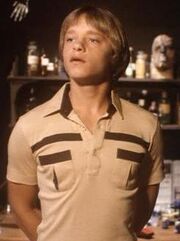 Mark Petrie
is a young boy and resident of
Jerusalem's Lot, Maine
. He is one of the first to realize that vampires are beginning to overtake the town.
He goes to the Marsten House with the intention of killing Kurt Barlow, accompanied by Susan Norton. Unfortunately the plan fails. He escapes, but Susan is caught and turned into a vampire.
Mark accompanies Susan's love Ben Mears and Donald Callahan on their quest to stop the vampires. In the end, Mark and Ben are the only survivors and are forced to flee the town.
Appearance
He is described as wearing steel-rimmed glasses. He is as tall as Richie Boddin, so he toward over most of his classmates. He was slender and his face looked defenseless and bookish. At age twelve, Mark Petrie was a little smaller than the average and slightly delicate-looking. Yet he moved with a grace and litheness that is not the common lot of boys his age. His complexion was fair, almost milky, and his features, which would be considered aquiline later in life, now seemed a trifle feminine.
Ad blocker interference detected!
Wikia is a free-to-use site that makes money from advertising. We have a modified experience for viewers using ad blockers

Wikia is not accessible if you've made further modifications. Remove the custom ad blocker rule(s) and the page will load as expected.