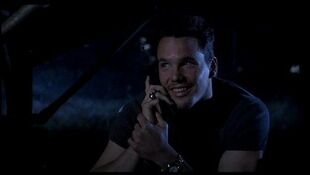 Mark Bing
was played by Dylan Bruno.
He, together with the others in the football team played the sex game which, among other things, caused Lisa Parker´s suicide. He helped Eric Stark, when he was in problems regarding this matter and didn´t hesitate to behave criminally because of that. He also was one of the main conspirators in a plot to humiliate Rachel Lang. Mark and his friends targeted Rachel for her role in the investigation of the death of her best friend Lisa Parker. He worked alongisde a girl named Tracy Campbell, who, herself, wanted to steal Jesse Ryan from Rachel since Tracy was Jesse's ex-girlfriend. He is the equivent of Billy Nolan.
He was drowned by Rachel during the Black Party.