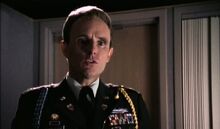 Character Biography
Major Creighton is General Starkey's friend and right hand man, he periodically updates Starkey on the situation. He assumes command of the containment operation after Starkey is relieved of command of Project Blue and commits suicide in the Project Blue lab. He is last heard speaking to another Army officer on the radio in Los Angeles; it is unknown whether he survives Captain Trips. There is an ongoing debate ,among fans of the novel, concerning his survival. There is no information provided about his background. However an examination of his uniform from the 1994 adaptation shows that he is an Infantry officer and saw action in Panama in 1989.
Actor/author Robert Knott portrayed Creighton in the 1994 adaptation.
Ad blocker interference detected!
Wikia is a free-to-use site that makes money from advertising. We have a modified experience for viewers using ad blockers

Wikia is not accessible if you've made further modifications. Remove the custom ad blocker rule(s) and the page will load as expected.