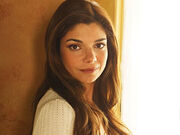 Laura San Giacomo (born November 14, 1962)is an American actor known for playing the roles of Nadine Cross in The Stand television adaptation (1994), Maya Gallo on the NBC sitcom Just Shoot Me! (1997-2003), Kit De Luca in the film Pretty Woman (1990), and Cynthia in Sex, Lies, and Videotape (1989) as well as other work on television and in films. She played the role of Holly Hunter's childhood best friend on the TNT crime drama series Saving Grace(2007-2010). Before embarking on her acting career she was a professional model.
Ad blocker interference detected!
Wikia is a free-to-use site that makes money from advertising. We have a modified experience for viewers using ad blockers

Wikia is not accessible if you've made further modifications. Remove the custom ad blocker rule(s) and the page will load as expected.