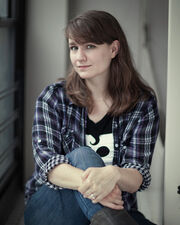 Kelly Braffet
(born 1976) is an American author.
She is the wife of Owen King, the sister-in-law of Naomi and Joseph King, and the daughter-in-law of Tabitha and Stephen King. Kelly Braffet is the author of the novels Save Yourself, Josie and Jack and Last Seen Leaving. Her writing has been published in The Fairy Tale Review, Post Road, and several anthologies. She attended Sarah Lawrence College and Columbia University and currently lives in upstate New York with her husband.
Bibliography
Website
Ad blocker interference detected!
Wikia is a free-to-use site that makes money from advertising. We have a modified experience for viewers using ad blockers

Wikia is not accessible if you've made further modifications. Remove the custom ad blocker rule(s) and the page will load as expected.