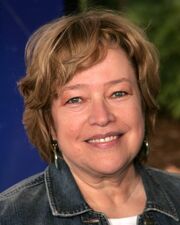 Kathy Bates is an American actress who has been in such films as
About Schmidt, Fried Green Tomatoes
and
Titanic
, where she played the "Unsinkable" Molly Brown.
Stephen King films
Bates is the only actress to appear in more than one Stephen King film. She has appeared in Misery, where she played a psychopathic obsessed fan, and Dolores Claiborne, where she played a battered wife. In fact, Bates says that her role as the complex Dolores Claiborne is her all-time favorite movie role that she played.
Portrayals
Ad blocker interference detected!
Wikia is a free-to-use site that makes money from advertising. We have a modified experience for viewers using ad blockers

Wikia is not accessible if you've made further modifications. Remove the custom ad blocker rule(s) and the page will load as expected.