John Rainbird
Comment

1
2,046pages on
this wiki
Firestarter
Edit
John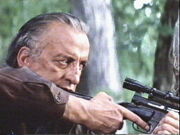 Rainbird
was played by George C. Scott.
He is a Native American, working as an agent/assassin for The Shop and he is a badly scarred Vietnam veteran.
He is also a psychopath obsessed to know what is beyond life through his victims, which is why he likes to kills them while he can look into their eyes and watch them die correspondingly. It also gives him a feeling of power, which he wants to take with him after his death.He plans to kill Charlie, because he is convinced her death would give him special power, which he wants to take to the other world.
He killed Andy McGee and Joseph Wanless. After killing Andy, he tried to kill Andy's daughter Charlie McGee, which he intended to do from the beginning once The Shop had finished with the experiments on her, but she melted the bullet and burnt him and James "Cap" Hollister to death (in the book).
Firestarter 2
Edit
Appearences
Edit