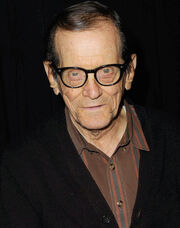 Joe Turkel (born July 15, 1927) is an American character actor who worked in both film and television. He is credited in several films as
Joseph Turkel
.
career
Turkel's most famous roles are Dr. Eldon Tyrell, the wealthy industrialist with a God - complex in Ridley Scott's Blade Runner (1982), and Lloyd the Bartender, the ghostly bartender in Stanley Kubrick's The Shining (1980). He has the distinction of being one of only two actors (the other being Philip Stone) to work with Kubrick as a credited character three times: in The Killing (1956), Paths of Glory (1957), and in The Shining.
Turkel worked steadily from 1949 - 1998 in both film and television. He retired in 1998. He still makes the occasional appearance at fan conventions even at the age of 89.
Gallery
Ad blocker interference detected!
Wikia is a free-to-use site that makes money from advertising. We have a modified experience for viewers using ad blockers

Wikia is not accessible if you've made further modifications. Remove the custom ad blocker rule(s) and the page will load as expected.