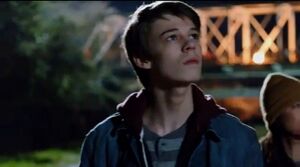 Joseph Ernest "Scarecrow Joe" McAlister (b. 1997) is the younger brother of Angie McAlister, and a resident of Chester's Mill.
Using his cellphone, he records episodes of a video blog called "Joe's Blog." In his bedroom, he has hung a Union Jack, a poster of Bob Marley, and a copy of the Periodic Table of Elements. He is a fan of science-fiction, reggae, ska, and chemistry.
On the night that the invisible barrier descended around Chester's Mill, Joe suffered a seizure that was witnessed by his friend Benny Drake, during which McAlister mumbled that "pink stars are falling in lines."
McAlister may be considered a twinner of Joe McClatchey.
Biography
Portrayal
In the television series, McAlister was played by Colin Ford.
Appearances
Ad blocker interference detected!
Wikia is a free-to-use site that makes money from advertising. We have a modified experience for viewers using ad blockers

Wikia is not accessible if you've made further modifications. Remove the custom ad blocker rule(s) and the page will load as expected.