This article pertains to the character as he appears on television. You may be looking for his literary counterpart.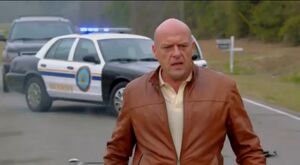 James P. "Big Jim" Rennie is the widower of Pauline Rennie, the father of Jim Rennie, Jr., the brother-in-law of Sam Verdreaux, a councilman in Chester's Mill, and the owner of Big Jim's Cars. He serves as the main antagonist in the first two seasons of Under the Dome.
He is also the architect of a vast methamphetamine laboratory and distribution operation, and a business associate of Maxine Seagrave.
Dean Norris portrayed the character in the television series by the same name.
Gallery
Appearances
Ad blocker interference detected!
Wikia is a free-to-use site that makes money from advertising. We have a modified experience for viewers using ad blockers

Wikia is not accessible if you've made further modifications. Remove the custom ad blocker rule(s) and the page will load as expected.