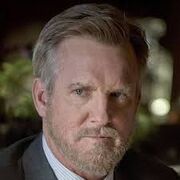 James Patrick "Jamey" Sheridan (born July 12, 1951) is an American actor. Sheridan's acting career has encompassed theater, television, and feature film productions. Born in Pasadena, California, to a family of actors, he earned a Tony Award nomination in 1987 for his performance in the revival of Arthur Miller's All My Sons. After several TV movie appearances, Sheridan landed a starring role as lawyer Jack Shannon on Shannon's Deal, which ran for one season in 1990. His later television roles include Dr. John Sutton on Chicago Hope (from 1995 to 1996) and Randall Flagg in the television mini-series adaptation of The Stand (1994). Jamey Sheridan is married to actress Colette Kilroy. They have three children live in Los Angeles.
Ad blocker interference detected!
Wikia is a free-to-use site that makes money from advertising. We have a modified experience for viewers using ad blockers

Wikia is not accessible if you've made further modifications. Remove the custom ad blocker rule(s) and the page will load as expected.