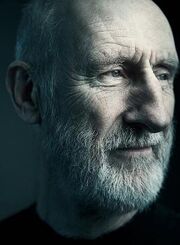 James Oliver Cromwell (born January 27, 1940) is an American actor and producer. Some of his more notable films include Star Trek: First Contact (1996), L.A. Confidential (1997), The Green Mile (1999), Space Cowboys (2000), The Sum of All Fears (2002), I, Robot]] (2004), The Longest Yard (2005), The Queen (2006) and The Artist (2011), as well as the television series Six Feet Under (2003–2005), 24 (2007) and Halt and Catch Fire (2015). He played Warden Hal Moores in the film adaptation of The Green Mile. He portrayed Father Callahan in the 2004 remake of Salem's Lot
Ad blocker interference detected!
Wikia is a free-to-use site that makes money from advertising. We have a modified experience for viewers using ad blockers

Wikia is not accessible if you've made further modifications. Remove the custom ad blocker rule(s) and the page will load as expected.