Henry Bowers
Comments

3
1,828pages on
this wiki
Henry Bowers


Biographical Information
Born
1946
Died
1985
Also known as
None
Title(s)
Henry Bowers
Familial Information
Family members
Oscar "Butch" Bowers (father)
Mrs. Bowers (mother)
Affiliation
Occupation
Student, bully
Home
Derry, Maine
Loyalty
Belch Huggins, Vic Criss, It, his gang
Actors
Portrayed by
Jarred Blancard (young) Michael Cole (adult)
"I'll kill you, you little fucking pansy."
- Henry Bowers mocking Patrick Hockstetter
Henry Bowers is the psychopathic school and neighborhood bully and the secondary antagonist of the novel It and its 1990 made-for-TV adaption.
Early Life
Edit
"Been throwing rocks at anyone, nigger? Want to know who poisoned your fucking dog?"
- Henry mocking Mike in the Novel
He torments the Losers and other children. He's the leader of The Bowers Gang, a gang of school bullies. He demonstrates acts of violence upon the Losers during and before the summer of 1958 such as carving his name into Ben Hanscom's belly which he never finishes, killing Mike Hanlon's dog with tainted meat and bathing him in mud to make him a "tar baby", breaking Eddie Kaspbrak's arm, breaking Richie Tozier's glasses numerous times and white washing Stan Uris' face in the snow until it bleeds. His sanity becomes apparent during his attacks on Bill and Beverly as he pushed a man to the ground and threatened him in going back inside and kicking an old lady's taillight when she tried to stand up for Beverly. After a rockfight in 1958 Henry becomes more and more sadistic and even goes as far as to swear revenge to the losers after the fight. Like Buddy Repperton, Billy Nolan and Ace Merrill, he is the leader of a school gang and like his father he is intolerant of all ethnic groups
In late August 1958, It provides Henry with a switchblade to which he uses to kill his crazy abusive father. Under the influence of It, Henry alongside his friends, Victor Criss and Belch Huggins, chase the Losers down through the sewers. Under Derry, It then takes the form of Frankstein's Monster, and kills Vic and Belch in front of him, though Henry still manages to escape. Henry was eventually framed and convicted for most of the murders that occured throught out the summer. In the tv movie adaptation, the sewer scene was significantly different from the Novel. In the movie, Henry kidnaps Stan and plans to kill him. Before he is able to, Pennywise (under the form of the Deadlights) intervenes in and kills his friend Belch, to Henry and Stan's horror. when Henry sees the deadlights, his hair turns white. In the aftermath of the summer of 1958, Henry - under the influence of It - confesses to the cops that he was the one who killed them. He also tells them about the deadlights and the clown living in the sewer. Not believing Henry about the clown, the cops arrest him and put him on trial for the murders.
Henry is committed to a mental hospital. He counts how many nightlights he burns out (four) and remains there until May 29, 1985.
Return and Death
Edit
I've got bones to pick with you, but I'm only willing to let that go for today, today I want him, so buzz off.
-Henry Bowers to The Losers Club.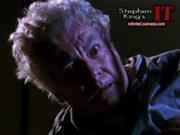 In 1985, It is unable beat the Loser's Club alone - so It takes the form of one of Henry's deceased friends Vic, and makes him do It's dirty work. It also kills the guard of the mental hospital in the form of an 8ft tall
doberman
to stop him from preventing Henry Bowers' escape. Henry Bowers eventally found where the members of the Loser's Club were hiding - and Henry stabs Mike with his switchblade (which Mike survives), but Henry accidentally stabs himself when Ben and Eddie came in and saved Mike. In the novel however, he is directly killed by Eddie in self-defense, who stabs him with a broken water bottle.
It is unkown what was the inspiration behind his name although it was most likely Henry Francis Bowers who was an American politician, or he could have been named after Henry Robertson Bowers who was the lieutenant of the ill fated Terra Nova Expedition.
He is similar to Ace as they are both confront their victims outside of school.
Henry also shares a similarity with Disney Villian, Governer Radcliffe, as they are both equally ruthless.
Appearances
Edit