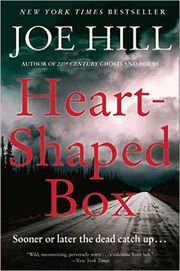 Heart-Shaped Box
is the second book published by
Joe Hill
, and was his debut novel. It as published on 13 February 2007.
Plot
Middle-aged rock star Judas Coyne collects morbid curios, so he doesn't think twice about buying a suit advertised at an online auction site as haunted by its dead owner's ghost. Only after it arrives does Jude discover that the suit belonged to Craddock McDermott, the stepfather of one of Coyne's discarded groupies, and that the old man's ghost is a malignant spirit determined to kill Judas in revenge for his stepdaughter's suicide. Judas and his girlfriend take to the road in an attempt to run from the ghost and to find a way to stop it.
Ad blocker interference detected!
Wikia is a free-to-use site that makes money from advertising. We have a modified experience for viewers using ad blockers

Wikia is not accessible if you've made further modifications. Remove the custom ad blocker rule(s) and the page will load as expected.