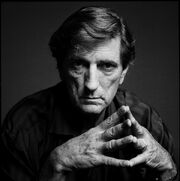 Harry Dean Stanton (July 14, 1926 – September 15, 2017) was an American actor, musician, and singer. Stanton's career spanned over 60 years, during which he appeared in such films as Cool Hand Luke, Kelly's Heroes, Dillinger, The Godfather Part II, Alien, Escape from New York, Christine, Paris, Texas, Repo Man, Pretty in Pink, The Last Temptation of Christ, Wild at Heart, The Straight Story, portrayed Toot-Toot in The Green Mile and Inland Empire. Stanton played a recurring role as an Mormon polygamist offshoot leader for the first 3 seasons of the HBO television series Big Love.
Ad blocker interference detected!
Wikia is a free-to-use site that makes money from advertising. We have a modified experience for viewers using ad blockers

Wikia is not accessible if you've made further modifications. Remove the custom ad blocker rule(s) and the page will load as expected.