This article pertains to the character as she appears on television. You may be looking for her literary counterpart.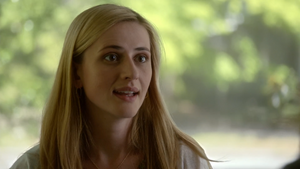 Harriet Bigelow is the wife of Greg, the next door neighbor of Peter and Julia Shumway, and a resident of Chester's Mill.
She is visibly pregnant, and when she hallucinates at seeing Greg returning from deployment, she touches the Dome and it caused her water to break.
With the help from Julia, Barbie, Carolyn, and Alice, Harriet gave birth to a baby daughter and named her Alice.
Appearances
Ad blocker interference detected!
Wikia is a free-to-use site that makes money from advertising. We have a modified experience for viewers using ad blockers

Wikia is not accessible if you've made further modifications. Remove the custom ad blocker rule(s) and the page will load as expected.