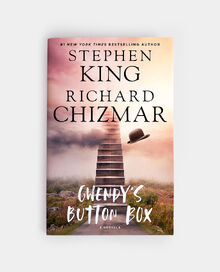 Gwendy's Button Box is a Novella written by Stephen King and Richard Chizmar. And it was announced by Entertainment Weekly on February 28,2017. It was released on hardcover on May 16 2017 and was released on paperback on October 31 2017.
Plot
Gwendy's Button box is set in Castle Rock, Maine. Their are some stairs in Castle Rock called the Suicide Stairs. Gwendy a little girl hears a man call to her to come over. She does and see's a strange Man wearing a black hat with a coat and a black coat. She later has Nightmares about that hat.
Ad blocker interference detected!
Wikia is a free-to-use site that makes money from advertising. We have a modified experience for viewers using ad blockers

Wikia is not accessible if you've made further modifications. Remove the custom ad blocker rule(s) and the page will load as expected.