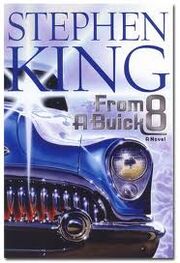 From a Buick 8
is the 46th book published by
Stephen King
; it was his 39th novel, and the 33rd under his own name. The book was released by
Scribner
on 24 September
2002
.
Summary
The novel is a series of recollections by the members of Troop D, a police barracks in Western Pennsylvania. After Curtis Wilcox, a well-liked member of Troop D, is killed by a drunk driver, his son Ned begins to visit Troop D. The cops, the dispatcher and the custodian quickly take a liking to him, and soon begin telling him about the "Buick 8" of the title. It is in some sense a ghost story in the way that the novel is about a group of people telling an old but unsettling tale about a Buick Roadmaster. And while the Buick 8 is not a traditional ghost, it is indeed not of their world.
Trivia
Troop D is actually a state police force in Butler, PA. Some others in the area are Troop A in Greensburg, Troop B in Washington, and Troop C in Punxsutawney.
Ad blocker interference detected!
Wikia is a free-to-use site that makes money from advertising. We have a modified experience for viewers using ad blockers

Wikia is not accessible if you've made further modifications. Remove the custom ad blocker rule(s) and the page will load as expected.