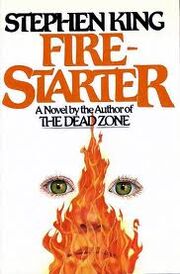 Firestarter is the ninth book published by Stephen King; it is his eighth novel, and the sixth novel under his own name. The book was released by Viking in 29 September 1980.
Plot
In 1969, a secret government agency called The Shop, made experiments with a chemical drug called Lot Six. Lot Six altered the chromosomes on the test subjects, to experiment with psychokinetic powers, such as telekinesis. Two of the test subjects, Andy McGee and Vicky Tomlinson fell in love, and later married. They had a child, who they named Charlie, who was born with multiple abilities, primarily Pyrokinesis, the ability to start fires with her mind. Eight years later, Andy, Vicky, and Charlie flee across America, constantly looking for sanctuary from a group of government agents from The Shop, who are trying to find them, capture them, and harness their powers for the military. John Rainbird kills Vicky, leaving Andy and Charlie alone. They flee, but eventually Rainbird assists in capturing them. 
Andy slowly regains his powers and initiates an escape attempt.  Rainbird figures out the plan and stops them, killing Andy in the process. Grief turns to fury as Charlie uses her now perfected pyrokinesis to battle her way out of the compound, killing many, and destroying much of the compound in the process.  After spending time with a couple that had previously sheltered them, Charlie flees again, just before the Shop agents arrive, and goes to the Rolling Stone magazine to give an interview telling her story, because she sees it as an "unbiased source with no ties to the government".
Adaptations
The story was adapted into a film in 1984, with a made-for-television sequel following in 2002. A television series called The Shop is also planned as a sequel of Firestarter.
Audiobook
The audiobook version of Firestarter is read by Dennis Boutsikaris.
References
Firestarter is referenced in The Tommyknockers; Gardener tells Bobbi about a girl who burned down "the Shop". 
Book Covers