Carrie (Novel)
The parents of Sue are never described, only mentioned and it is implied that they approve of Sue's decision to make amends with Carrie.
Carre (1976)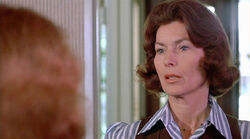 Eleanor Snell was played by Priscilla Pointer.
She is the mother of Sue Snell. She is a good mother and it is implied, that she lives with a husband, Sue and another daughter. She is gentle with Margaret, when she visits her to convince her to join her beliefs, but that´s all. She also apologises to her for what Sue did. In the ending she goes away from the town with Sue after the disaster and takes special care of her daughter, now that she has gone through this hell.
Carrie (2013)
Eleanor Snell
was played by Cynthia Preston.
She is the mother of Sue Snell. Like in the 1976 version she is a good mother, but she lives alone with her daughter. She doesn´t like Carrie´s mother Margaret, but she likes her dresses and apologizes for her daughter´s behaviour nonetheless. She misses the time, when she went to the prom herself, when she visits Margaret´s shop to take Sue´s dresss for the prom home after having paid for it.
In the alternate ending she helps her pregnant daughter deal with the trauma regarding the Black Prom, like in the original and with her pregnancy.
Ad blocker interference detected!
Wikia is a free-to-use site that makes money from advertising. We have a modified experience for viewers using ad blockers

Wikia is not accessible if you've made further modifications. Remove the custom ad blocker rule(s) and the page will load as expected.