Dick Hallorann
Comments

0
1,960pages on
this wiki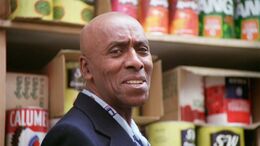 Richard "Dick" Hallorann
is a chef in the Derry E Army in and is later a chef at the
Overlook Hotel
. Dick has the Shining ability and is an expert chef. He drove a
Plymouth Fury
.
He was a former member of the African-American army nightclub in Derry, Maine called "The Black Spot". He was one of the survivors when the Legion of White Decency (The Maine equivalent of the Ku Klux Klan) burned it down in 1930. This occurred in the novel It. He is also notable for being one of the only sane adults who was able to see It in one of its varying forms.
During the events of The Shining, Dick Hallorann is the chef of the Overlook Hotel, and also possesses the rare Shining ability just like Danny Torrance. He attempts to rescue the Torrance family after Jack Torrance goes insane.
Appears posthumously in Doctor Sleep.  It is revealed that he died January 19, 1999.
Appearances
Edit